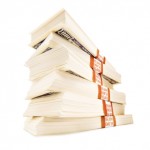 In the midst of a brewing currency war, Japan's out-of-control monetary policy has caused the yen to fall to an almost five-year low against the U.S. dollar.
With an economy one-third the size of that of the United States, Japan has committed itself to a fiscal program that's almost double the U.S.
Federal Reserve
's current $85- billion a month stimulus.
Like any other war, this battle of monetary-easing measures won't end well, but fortunately for Americans, it's looking more and more likely that the dollar will emerge victorious.
"Right now, the U.S. dollar is the 'cleanest dirty shirt in the laundry,' so I'd buy it," said
Money Morning
Capital Waves Strategist Shah Gilani.
The dollar now stands at 101.93 against the yen, the first time it's broken the 100 mark since 2009, and is up 26.6% in the past six months.
Many experts are now predicting the dollar's climb has just begun and some analysts see the dollar hitting 105 yen this summer and possibly 110 by the end of the year.
"The turn in yen has been dramatic and has proven the importance of momentum when a multi-year cycle turns," Nomura currency expert Jens Nordvig wrote in a note to clients. "A similar dynamic could be in store for the dollar. In the scheme of things, the USD REER [Real Effective Exchange Rates] is still trading close to multi-decade lows. Once the turn is evident, we believe momentum could be powerful."
Here's why the U.S. dollar's run is just beginning.