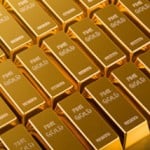 China really loves gold - and it understands gold better than any Western nation.
It's no secret that the People's Bank of China has been buying the yellow metal for years, shoring up its reserves. And the country's central bank may have been buying for decades before it became at least a little more transparent.
Recently, however, the Chinese central bank has been among the world's most aggressive buyers of gold.
In fact, there are some clues that point to the fact that their actual gold holdings are a multiple of what's actually being reported in the financial press, which in turn points to a shocking long-term strategy: a move to link or back the yuan with gold.