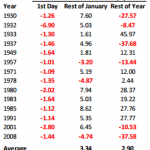 Over the past 12 months we've had several major market corrections and, each time, I've counseled you to buy into the madness because history shows beyond any shadow of a doubt that's the path to enormous profits.
And, each time, I get a blizzard of emails, and the past few trading sessions have been no exception...
...but what happens if the markets go down further?
That's a logical question.
So I thought we'd answer that today with a quick look at how to combine two tactics for maximum profits and minimum risk, especially on big down days.
It's powerful stuff, and not just because of the profit potential.
The real message here is that the tools I'm going to share with you today can give you the confidence boost you need to buy on big down days when everybody else and their mother has their finger on the "sell" button.
As usual, I've got a few easy-to-understand examples so you can put what you learn to work straight away.