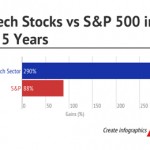 Biotechnology is tech's fastest-growing sector. In fact, there are more than 100 biotech companies set to go public in 2015.
Of those 100 IPOs, 60 are expected to launch before April 1. So you have to move fast to ride this $320 billion biotech wave.
Those IPOs are all but certain to keep the biotech bull market going through the year. Biotech stocks have soared 290% in the past five years. That's more than triple the S&P's 88%.