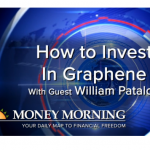 Want to know why everyone is asking how to invest in graphene?
For starters: It's one of the strongest materials ever known.
It's also as light as a feather. And completely flexible.
Plus, it's not just going to change the latest inventions in the defense industry; it'll be used in everyday life.
For example, imagine charging your mobile phone or tablet in just 30 seconds.
Or pulling up your electric car to a charging station and having a full charge in under a minute.
Here's how graphene makes this future a possibility.