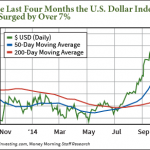 The Fed plans to wind down its asset purchases this month, but Japan and the United Kingdom are still buying, full swing.
Meanwhile, the European Union is just looking to get started.
And, while the Fed is expected to begin raising rates next year, Europe and Japan recently pushed theirs below zero as deflation appears to be the bigger threat.
That's sent the U.S. dollar into a major run up, with the euro and yen on the losing side.