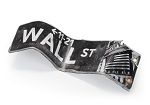 There's simply no limit to how far Wall Street will go to make a buck.
It's no wonder. With corporate offenses and "bad behavior" routinely going unpunished, perpetrators have developed a sense of immunity.
But just weeks ago there was an indictment in a case of alleged manipulation of commodities futures.
It's the first ever federal prosecution for "spoofing," a tactic I recently discussed.
While we wait to see if it either sets the tone for a wider crackdown or proves to be little more than a slap on the wrist, we can also take the opportunity to profit.