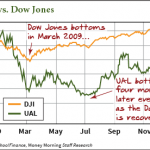 Editor's Note: We're sharing this Total Wealth with you because we believe that the ongoing Ebola outbreak will continue to be disruptive to markets all over the world. But as we've seen many, many times before, out of chaos comes opportunity. Here's Keith...
I believe Ebola may be the most serious threat to humanity since the bubonic plague of the Middle Ages. Already it has spread to a dozen countries, including the U.S., and more than 4,000 people are dead. According to Dr. Bruce Aylward of the World Health Organization (WHO), mortality rates are rising and now sit at 70%.
This outbreak is more grim proof that the global trend of war, terrorism, and ugliness is indeed a growth industry.
That's the next trend we'll be discussing, though it's easily my least favorite both personally and professionally. But it's very, very important. So please stay tuned for that in the weeks ahead.
In the meantime, Ebola clearly qualifies as "ugliness." It has the potential to be a serious market event before it's brought under control. Recent trading suggests, in fact, that it already is by virtue of the fact that some $1.5 trillion has already been wiped from the exchanges on Ebola related fear driven trading.
So we need to talk about it logically - no hype, no conspiracies, and no nonsense. I mention those things because they're all emotional inputs that can cloud your thinking and have a seriously negative impact on your money.