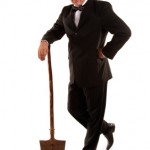 Five years after the
financial crisis
, just about everyone has had to clean up their act.
Consumers have less credit card debt. Banks are stuffed with capital, prodded by the
Federal Reserve
. Even the federal deficit is shrinking.
But one federal agency seems to have resisted long-overdue change. It's the
Federal Housing Administration
or FHA.
Findings by a congressional committee, released last week, show the giant government mortgage-insurance agency could face a $115
billion
shortfall - at least, if the housing market tanksby 20% again.
The figure is so large the FHA has worked to keep it under wraps for as long it could.
This winter the Fed required the nation's 18 biggest banks to undergo the same sort of "stress test" scenario.
The FHA, though, excluded the results of its stress test from an independent actuarial review released in November - and hoped to release the results later when Congress and reporters weren't paying attention.
In an October e-mail to Integrated Financial Engineering Inc. of Rockville, Md., which conducted the review, an FHA official wrote, "We just do not want that analysis [the stress test results] to be in the actuarial review report."
The e-mail went on to say, "In congressional hearings, it is quite possible that we will be required to present this information on the record, but that will be well after the actuarial review is released and the initial media coverage takes place."