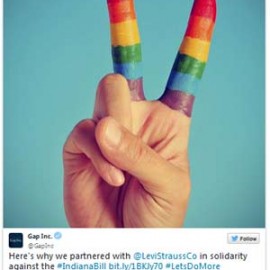 A controversial Indiana law has big-name companies taking action against the state...
The Religious Freedom Restoration Act (RFRA), signed into law by Indiana governor Mike Pence on March 26, allows businesses to legally turn away gay, lesbian, and transgender people. Religious and ethnic minorities are vulnerable as well.
Business leaders across the nation have begun to speak out against the Indiana law, including Apple Inc. CEO Tim Cook, Wal-Mart CEO Doug McMillon, Nike CEO Mark Parker, and more. Aside from moral objections, they argue it will make it harder to attract employees and customers in the state.