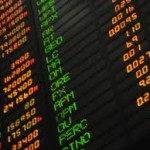 Dow Jones Today: The markets slid on Friday despite the fact that the unemployment rate slipped to a five-year low.
The jobless rate fell to 6.3%, beating expectations of 6.6%. In April, the U.S. economy created 288,000 jobs, but the labor participation rate slipped to 62.8% from 63.2%.
The Dow Jones Industrial Average was down 46.04 points to finish at 16,512.83. The S&P 500 slid 2.56 points to close at 1,881.12, while the Nasdaq was down 3.55 points to finish at 4,123.90.