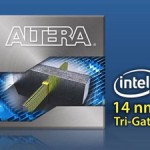 When word got out Friday that Intel Corp. (Nasdaq: INTC) was in talks to buy fellow chipmaker Altera Corp. (Nasdaq: ALTR), Intel stock rose 6.4%.
That tells you how much this deal would benefit Intel. Usually the prospect of a large acquisition causes a company's stock to drop.
But buying Altera will fuel Intel's already thriving data center business - the company's best answer yet to its failure in the mobile market.