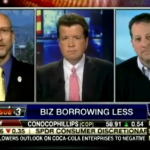 Money Morning
Chief Investment Strategist Keith Fitz-Gerald joined
FOX News'
Neil Cavuto for a "Biz Blitz" segment April 26. On tap were these three hot issues of the moment:
Issue #1: Samsung profit is soaring, while tech king Apple is on the decline. Is this because of buzz Samsung is creating for its phones, or are we witnessing a major consumer shift for the hottest tech products? Does Samsung have a shot at winning over Apple lovers?
Issue #2: IBM CEO in an internal company video tells employees after a weak earnings report to get their act together - or get out. Is this too harsh, or a necessary tactic to turn the company around? Can it work?
Issue #3: Outstanding loans by the biggest banks to U.S. companies fell 9% in the first two weeks of April compared to the end of March. What's behind the decline - and what does it tell us about the U.S. economy in 2013?
To get the answers from Fitz-Gerald and fellow guest Dave Maney, watch the full interview below.