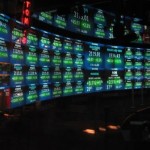 Warren Buffett famously said at the height of the financial crisis that you only know who's been swimming naked when the tide goes out.
Unfortunately for him and his shareholders at Berkshire Hathaway, it appears that one of the Sage of Omaha's biggest holdings, IBM Corp., has been skinny dipping for a long time.
Some astute observers such as Stanley Druckenmiller, Doug Kass, and Fred Hickey, the editor of The High-Tech Strategist, have been warning for months that IBM's business and balance sheet were deteriorating.
The stock market, however, was happy to ignore these warnings and instead allow itself to be fooled by massive debt-financed stock buybacks that were propping up the company's shares.