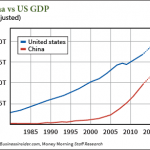 China's ambitions for superpower prominence are no secret.
But that requires recognition on the world stage.
Inevitably, that also means a greater role for China's currency, the yuan, in the global finance arena.
There are clear and visible signs that China's currency is on the march to that global position, yet until now they've been underreported.