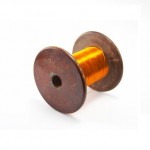 Copper prices are up 170% over the past four years - meaning huge profits for anyone who has been investing in copper.
But now many investors are bailing on the red metal. Prices have slipped about 9% this year, and inventories are soaring.
Copper prices hit an eight-month low today (Wednesday) as slowing economic growth has led speculators to take more short positions on the metal.
Copper inventories also appear to signal low demand. Stockpiles of the red metal in the London Metals Exchange are at the highest level since October 2003.
But what appear to be bearish signals for investing in copper are not the case. Here's what investors need to understand...