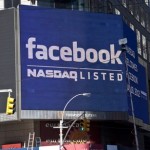 The big question looming over Facebook Inc. (Nasdaq: FB) is what its next move will be.
It's going to be tough to trump the social media giant's $19 billion purchase of WhatsApp on Feb. 19. [Almost as hard as it's going to be to beat the 158% price move FB stock has seen over the past year.]
While many balked at the exorbitant price paid for the five-year-old messaging app for smartphones, Facebook CEO Mark Zuckerberg sees great potential in the acquisition. Referring to WhatApp's soaring growth, Zuckerberg said, "No one in the history of the world has done anything like that."