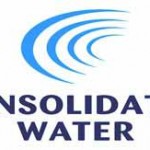 The water stock Consolidated Water Co. Ltd. (Nasdaq: CWCO) is the Money Morning Pick of the Week.
Consolidated Water stock also taps into one of what Money Morning Chief Investment Strategist Keith Fitz-Gerald likes to call "unstoppable trends." In this case, the trend is scarcity and allocation.
Despite a slump in the sector last year, the long-term prospects for water stocks have never been better.