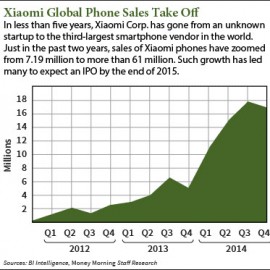 You may not have heard of this Chinese tech company yet, but before 2015 is over the talk about a Xiaomi IPO will reach a fever pitch.
Xiaomi Corp. has made incredible progress in its brief existence.
Founded in 2010, Xiaomi launched its first smartphone in 2011. By the third quarter of last year, Xiaomi had become the third-largest smartphone vendor in the world. It beat out such veterans as LG Electronics Inc. and Lenovo Group).