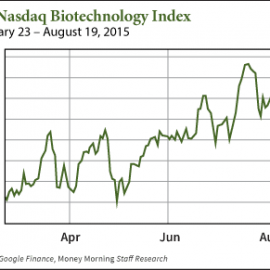 Over the past six months, we've seen the Nasdaq Biotechnology Index, an indicator for the entire sector, take some wild swings up and down, often by as much as 10% from week to week.
That's in stark contrast to the previous half-year, when we experienced a relatively steady upward swell.
This year's unsettling international headlines haven't helped. In just the last few months, we've battled doom-and-gloom sentiment on the debt crisis in Greece, currency manipulation in China, cratering oil prices, the burgeoning debt crisis in Puerto Rico, and the specter of a September rate hike from the Fed.