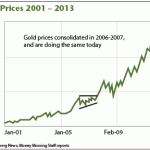 Despite a pullback in gold prices, hold on to your gold. In fact, look to buy more.
You see, thanks to record highs for the U.S. stock market, a notable shift from defensive assets to "risk-on" trades has occurred.
The yellow metal slumped 1.4% to $1,552.80 Wednesday marking a nine-month low. That's after gold prices slid below $1,600 an ounce in Q1 on hints of a global economic rebound. The slide prompted market participants to shed gold holdings.
It's "certainly understandable" for investors to have sold gold following a 400% appreciation over the last decade and move into stocks, said Malcolm Burne, chairman of the Golden Prospect Precious Metals investment trust.
But, here's why the tide may be about to turn.