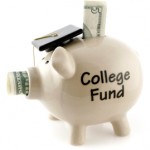 Benjamin Franklin once said, "An investment in knowledge pays the best interest."
But nowadays, you would have to be delusional to assume that an investment in higher education will definitely pay off.
After spending copious amounts of time and money on a college degree, the graduate unemployment rate is a now staggering 14%. What's more, even those who have gotten a job often settle for work that's hardly commensurate with their newly-minted education.
That has helped to create a trillion dollar student loan bubble, with the average debt per student up 70% since 2004.
It calls into question whether or not a college degree is worth the investment these days.
Here are the facts, I'll let you decide...