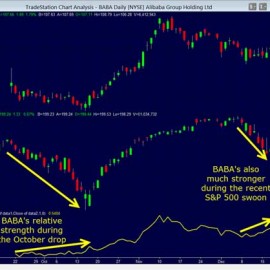 [Editor's Note: Today we'd like to introduce you to our technical trading specialist, D. R. Barton, Jr.  D. R. has been a trader for 25 years, and has spent the last 11 as COO and Risk Manager for the Directional Research and Trading Hedge Fund Group. His specialty is taking big gains from small market moves, like the 160% win his Stealth Profits Trader members enjoyed in November.]
When I'm not spending time digging through charts and analysis for Stealth Profits Trader, I like to look at some of the broader market elements that might be useful for any investor.
Today, I've found a great opportunity to buy a well-known and heavily traded stock at a great, low-risk price - perhaps even the best risk-adjusted price that we've seen on this stock to date. 
I believe that it has even more room to run; indeed, the go-to indicator I relied on to find this bargain is lighting up my "buy" screen, and right now is the time to act...