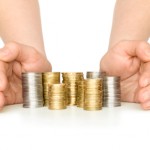 Wondering if now's the time to buy gold and silver? Wonder no more. Let me explain.
As a collector of both precious metals, like many, I planned on loading up in the wake of recent price declines. But guess what? My usual dealers were out of gold and silver.
Thanks to the selloff, a buying frenzy for bullion has crashed websites, jammed phone lines and depleted inventory.
"Our website was overloaded for the first time ever Friday and Monday. Every phone line was lit up. We did seven times our normal volume," Jake Haugen, VP of sales for Texas-based  Provident Metals, told Money Morning.
You see, with gold on track to log its fourth weekly decline and silver headed for the worst week in about 19 months, bargain hunting abounded.
Declines in gold and silver prices began last Thursday and accelerated Monday when gold plunged $140.40, or 9.4%, to $1,360.90 an ounce, marking its biggest one-day decline in 30 years. Since its 2011 high of nearly $1,900 an ounce, gold has tumbled 28%.
Silver slumped $2.97, or 11.3%, Monday to $23.36 an ounce, well off its 1980 record high of $49.45.
As recently as last year, investors like me were paying more than $1,700 per ounce for gold and $35 per ounce for silver.