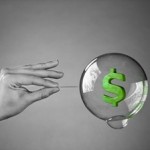 Some analysts feel that the biotech sector's recent tumble is evidence of the biotech bubble bursting.
But they're wrong; the market is simply in a period of adjustment.
The premise behind the bubble idea is that biotech companies as a group are overvalued, that their market caps aren't supported by performance. In other words, that their perceived value is all smoke and mirrors.