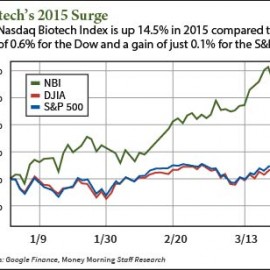 Wall Street pundits are claiming we are on the precipice of a biotech bubble because biotechnology stocks have been soaring. The Nasdaq Biotechnology Index has climbed 44% in the last year. The Nasdaq Composite and S&P 500 have climbed just 9% and 11% in the same time.
But it's the last week that has traders panicked about "bubble" territory.
From March 20 through March 26, the Nasdaq biotech index dipped 7%. The S&P biotech index dropped almost 11%.