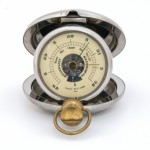 Thursday, Aug. 22 marks the start of the annual Fed meeting at Jackson Hole, WY - although this one will be much different than those of years past...
Every year since 1981, the U.S. Federal Reserve Bank of Kansas City has invited a slew of economic luminaries to its annual symposium in tony Jackson Hole.
The Jackson Lake Lodge, nestled among two lakes on the Willow Flats that front the imposing Teton Range, can host central bankers from any one of the world's largest economies, as well as cutting-edge economic thinkers and theorists from global academia.
Global market- and bank-watchers look to the Fed meeting at Jackson Hole as a source of critical information regarding potential shifts in macroeconomic policy.
Investors look to the meeting to bring a healthy, if fleeting, shot in the arm to the markets and share prices. Nearly any unexpected remark or errant word coming from the proceedings has the ability to rock the markets.