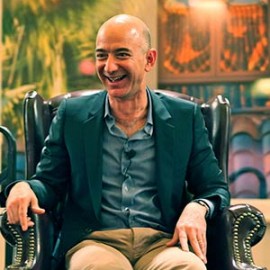 As of Jan. 9, Jeff Bezos' net worth was $27.8 billion according to Forbes. His company Amazon.com (Nasdaq: AMZN) - the largest Internet retailer in the U.S. - had a market capitalization of $137.98 billion.
The man Wall Street has come to know is a visionary who doesn't conform to typical big business management. That's evidenced every quarter in the last three years. Amazon continues to post impressive sales numbers, coupled with earnings per share (EPS) losses. The company hasn't turned a profit since 2012. Despite pressure to improve Amazon's bottom line, Bezos steadfastly reinvests the company's massive sales. He hasn't faltered from his strategy of diversification and growth.
Investors are left wondering where the company is headed next and more importantly, when it will turn a profit.
That's why we put together a list of five facts you didn't know about Jeff Bezos. Perhaps the best way to determine where Amazon is headed is a greater of understanding of the man behind its wheel.