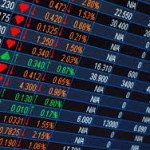 Stock market investors celebrated the continuing economic downturn by driving stock prices higher again last week. The Dow Jones Industrial Average rose 132 points or 0.8% to 17,215.95 while the S&P 500 added 18 points or 0.9% and the Nasdaq Composite Index jumped 1.2% to 4886.69. The worse things get, the more investors believe that the Fed will delay any interest rate increase into 2016.
They are probably being too optimistic. At the rate things are going, we may not see an interest rate increase until Barack Obama leaves office. And if we do, it won't be more than a token 25 basis points that won't amount to a hill of beans.
And that probably isn't a coincidence. Mr. Obama has appointed every member of the Federal Reserve's Board of Governors. This is highly unusual. The Federal Reserve Act provides for terms of 14 years, but in the past two decades the average tenure of governors has dropped to five years. This has arguably reduced the independence of the board.