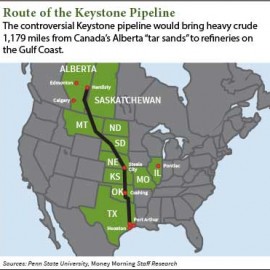 President Barack Obama has promised a Keystone pipeline veto. Soon he'll get his chance to do it.
Today (Thursday) the Senate voted 62-35 to complete work on the Keystone pipeline bill. That sets up a final vote that should result in the bill landing on President Obama's desk.
Some companies are actually rooting for a Keystone pipeline veto from President Obama. A veto would delay Keystone indefinitely, forcing Canadian oil producers to use alternatives like rail and barges to move the oil.