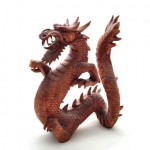 China is hungry and looking outside its borders for ways to feed its 1.35 billion citizens.
In recent years Chinese companies and investors have become some of the largest players in the vertical supply chain for global agriculture. It's a Chinese investment trend that will only accelerate as the country's population increases.
According to the Heritage Foundation, Chinese investors have pumped $27.9 billion into the agricultural sectors of more than 30 nations.
But one aspect of this Chinese investment trend has stirred some concern. The Asian giant has bought vast tracts of farmland in nations across Asia and Africa.