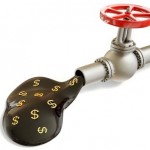 If you're one of the millions of investors trying to find decent yielding income investments, there's one place you should be looking -- Master Limited Partnerships (MLPs).
That's because if you play your cards right you can pocket a cool 6% to 10% or more from investing in MLPs - while the yield on the broad market barely cracks 2%.
As an added bonus, 80% to 90% of distributions from MLPs are tax-free until you sell.
As America's newfound shale formations spew forth million of barrels of oil and gas an infrastructure boom will be needed to store and ship it.
And a few select MLPs will be primed to cash in.