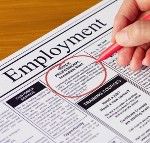 The January jobs report is another sign of how weak our economic recovery is - and it's not even taking into account all of the unemployed.
Friday, the Labor Department reported employers added 113,000 jobs last month. The unemployment rate ticked down to 6.6% from 6.7% in January, a rate not seen in five years.
But we know that number doesn't tell the full story...
The decline in the unemployment rate is due to an ongoing trend: discouraged workers exiting the labor force.
The actual unemployment rate, the U-6 rate, which includes "marginally attached workers plus total employed part time for economic reasons," remains at an unhealthy 12.7%.