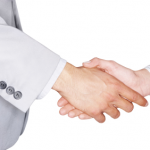 Deal making is back on Wall Street - in a big way.
Mergers had been nearly non-existent for nearly six years in the wake of the financial crisis as global economic uncertainty, heightened scrutiny of corporate boards, high unemployment and the housing market bust had put a damper on M&A deals.
But 2013 has begun with a flurry of deal making, with $160 billion worth of merger activity thus far, the most at this point in the year since 2005, according to Dealogic.
And the stellar start to the markets this year - the S&P gained 6.6% in January and the Dow is quickly approaching its all-time high - suggests deal making will heat up in the months ahead.
The latest M&A deals come at a time of historically low financing costs, renewed corporate confidence, and companies flush with stockpiles of cash. In this climate, companies are seeking growth through deals and see them as a way to expand while appeasing anxious shareholders.
"The dam is burst. The forces were too powerful to hold back forever," James B. Lee,
vice chairman of JPMorgan Chase & Co. (NYSE: JPM), told The Wall Street Journal.