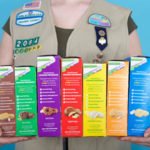 A group of Girl Scouts were seen selling cookies outside Chicago's Dispensary 33 on Sunday (Feb. 9).
And with that, Illinois' $40 million in legal cannabis sales is no longer the biggest news driving cannabis stocks today.
In fact, this story is arguably much bigger than cannabis legalization or state cannabis tax revenues.
It's about cannabis becoming normal.