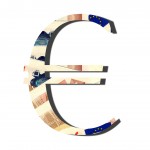 European Central Bank President Mario Draghi warned about excessive euro strength at a press conference today (Thursday) following his announcement that the ECB had left interest rates unchanged, as expected.
In response to a reporter's question on whether there was a currency war in progress, Draghi said, "I think we should have in mind one thing: changes in the exchange rates that we see today are not really deliberate competitive devaluations. They are more the effect of macroeconomic policies that are meant to revamp the economies - for example, very low interest rates, promises to stay low for a very long time.
"However, if these policies produce consequences on the exchange rates that do not reflect the G20 consensus, we will have to discuss this."
Draghi said the exchange rate is not a "policy target" but is "important for growth and price stability," adding, "We certainly want to see whether the appreciation - if sustained - will alter our risk assessment as far as price stability is concerned."
Observers blogging and tweeting from the room where the press conference was being held felt Draghi was being very careful in choosing his words and interpreted this as a sign that he was, in fact, attempting to talk down the euro or at least slow its rise against other major currencies.
Traders immediately sold the euro against the U.S. dollar and against the Japanese yen. The euro is currently trading down about 200 pips against the U.S. dollar and is off more than 150 pips against the Japanese yen.
There is no doubt Draghi succeeded in halting the rise of the euro, at least for today. But if the ECB is serious about putting a lid on the euro's strength, its options are limited.
Because the ECB must take into account the laws and preferences of its constituent national central banks, it would not be easy to intervene in the foreign exchanges market - except in extreme circumstances - or to undertake a competitive expansion of the ECB balance sheet as the Fed and the Bank of Japan are doing.
The ECB could create new credit by purchasing private-sector assets, as the Bank of England and the Bank of Japan have done, but it is unclear how the conservative Germans would react to such a plan.
Or Draghi could just keep talking.