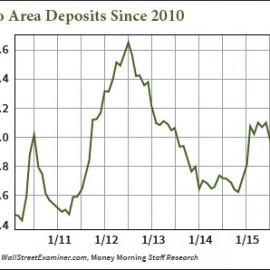 A funny thing happened while central banks were racing to make money cheap as free...
U.S. bank loan and deposit growth continues to go bonkers at annual growth rates of more than 8% for loans and around 6% for deposits.
Across the Atlantic, where negative-interest-rate policy (NIRP) is an ugly reality, loan and deposit growth in Europe is near zero - and that's in spite of the fact that Mario Draghi and his merry band of central bankers have thrown everything but the kitchen sink at their system to try to get it to grow.
But Draghi & Co. don't seem to realize their actions are killing Europe's markets while propping ours up.