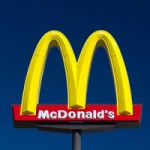 I love McDonald's burgers, fries, and shakes. What I don't love is its current stock price.
Don't get me wrong, the stock's been a huge gainer over the past decade. It's risen more than 230% in the past ten years while throwing off decent dividend income.
But what's hard to digest, with the stock 5% from its all-time highs, is where it goes next.
If you own McDonald's or are thinking about buying it, here's what I suggest: tread carefully and consider a few simple hedges - like put options. There's definitely upside here, but investors have to protect themselves.