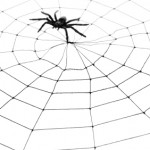 Prepare to be amazed in that special way that only remarkable science can amaze you.
Remember the first time you saw liquid nitrogen in person, or watched a butterfly emerge from its cocoon? THAT kind of amazed.
Now let's talk spider silk.
Japan-based startup Spiber Inc. says it has found a way to make and use artificial spider silk.
Why is that a big deal?
To fully understand, you have to be aware of the astonishing qualities of spider silk.