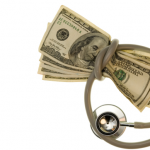 Sequester-driven budget cuts to Medicare are threatening to spur massive job cuts in the healthcare industry.
And the pain doesn't stop there - the sequester cuts are already making healthcare harder to obtain for some Medicare patients.
Unfortunately, this is just the beginning. The longer Congress allows sequestration to continue, the deeper the cuts will go and the more widespread their impact.
When President Barack Obama and Congress failed to reach agreement on $1.2 trillion in cuts to federal spending before March 30 -- as mandated by the Budget Control Act of 2011 -- the sequester kicked in.
Medicare providers faced mandatory 2% across-the-board reductions in their reimbursements.
After the cuts went into effect on April 1, hospitals, doctors, insurers, prescription drug plans, and other healthcare providers immediately felt the impact.
In short, the sequester is delivering precisely the kind of broad, damaging and indiscriminate cuts that politicians warned would happen.
And as each day passes, the drastic consequences grow worse.