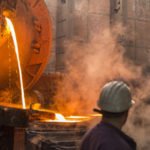 There is one common thread running through the industrial metals sector right now: the trade war.
Yes, it's true that the United States and China have recently announced an inspiring phase one trade deal.
That will reduce certain U.S. tariffs on Chinese goods, while increasing Chinese buying of American farm products, manufactured items, and even energy.
It's an encouraging start.
But until the trade issue is more fully resolved, it's likely to remain a cloud overhanging the economy.