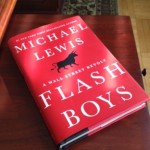 No doubt you've heard about Michael Lewis' new book, "Flash Boys."
And, no doubt you've been hearing more than ever before about the subject of Lewis' book, high-frequency trading (HFT).
I ran to Barnes & Noble to buy the book the second I heard about it last week. They didn't have any copies. So, I ordered it online, which was cheaper anyway.