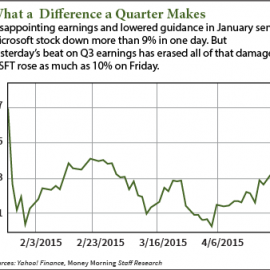 Microsoft stock gained as much as 10% today (Friday) as the company's latest earnings report showed that its "mobile-first, cloud-first" strategy is gaining momentum.
Microsoft Corp. (Nasdaq: MSFT) reported its fiscal Q3 earnings yesterday (Thursday) after the market close.
Even with a decline in Windows sales, one of the company's traditional cash cows, Microsoft handily beat Wall Street expectations.