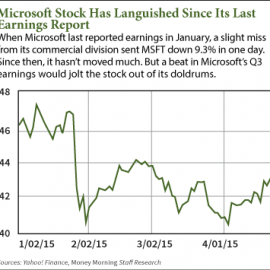 Microsoft Corp.'s (Nasdaq: MSFT) Q3 earnings don't figure to offer many surprises, but even a small beat will drive up the MSFT stock price.
Microsoft reports earnings tomorrow (Thursday) after the market close.
Microsoft, like longtime partner Intel Corp. (Nasdaq: INTC) and most PC makers, has suffered as PC sales have leveled off in recent years. Investors mainly want to know that Microsoft has a viable plan for future growth.