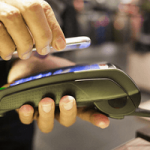 The arrival of Apple Pay means the mobile payments war will now seriously heat up.
The heft of Apple Inc. (Nasdaq: AAPL) and the fact that it was able to bring so many major players on board, from the big banks to the credit card companies, has put a spotlight on mobile payments.
For investors, spotting the winners in the mobile payments war is a path to profits.