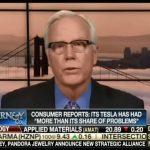 On Tuesday afternoon, Money Morning Defense & Tech Specialist Michael A. Robinson joined FOX Business' "Varney & Co." to talk about trouble brewing for Tesla stock (Nasdaq: TSLA)...
A new review released Tuesday morning from Consumer Reports said that Tesla's Model S "has more than its share of problems."
Watch the video to see why, despite the less-than-glowing review, Robinson is a huge fan of the Model S and of Tesla stock.
And his money's where his mouth is - Robinson's "in Tesla stock for the long-haul" himself...