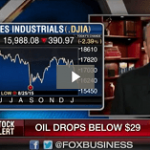 If you own gold, or are thinking of buying some, here's something you need to consider...
It's not all the same.
Just because battered U.S. stocks got an extra day of rest over the three-day weekend doesn't mean they're going to be ready to suddenly get up and fight their way higher.
Sure, they could get to their feet and even dance a little. But they're more likely going to get pounded again and again and, more than just possibly, get knocked out cold.
So I'm going to show you why we could bounce - and how to tell if that's just a head-fake.