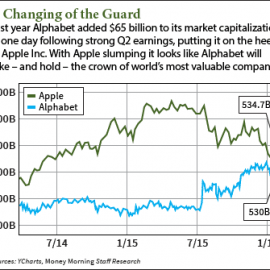 Alphabet stock has hit a milestone only a select few companies ever reach.
On Tuesday morning Alphabet Inc. (Nasdaq: GOOGL), formerly known as Google Inc., dethroned Apple Inc. (Nasdaq: AAPL) as the most valuable company on the planet following a strong Q4 earnings beat.
But what's remarkable is that Alphabet has reached this pinnacle with so much growth potential ahead of it.