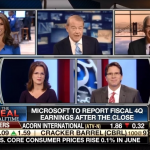 Microsoft Corp. (Nasdaq: MSFT) stock has climbed 42% in the last year and has reached its highest value in more than 14 years.
So how should investors play MSFT stock now that it's trading at such high levels?
Money Morning's Defense and Tech Specialist Michael Robinson appeared on FOX Business' "Varney & Co." yesterday (Tuesday) and told investors why he's bullish on MSFT stock, and how they should play the stock now...