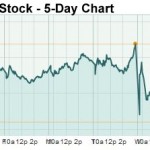 Microsoft stock is suffering from a bad reaction to a Q4 earnings report that, at first blush, looks really awful.
MSFT stock plunged more than 4.5% in after-hours trading Tuesday, thanks to a one-time write-off of the purchase of Nokia's devices unit.
But the reality isn't nearly so bad. Backing out the Nokia charge, Microsoft's EPS was $0.62 - higher than analyst expectations for $0.58.